Silicone Rubber Sheet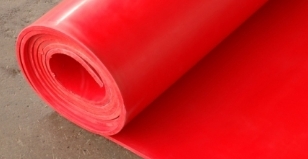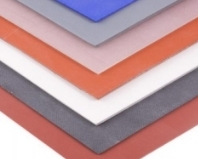 Silicone rubber can withstand a wider range of temperature extremes than nearly all other elastomers, remaining viable from -80°F to +450°F. Silicone has excellent temperature range and good compression set. Silicone can withstand many extreme environments and is inherently a fungus resistant material. It can resist water and many chemicals, including some acids, oxidizing chemicals and ammonia.
-Large Inventory in stock

-Short Lead Times

-Large Runs

-Acrylic PSA

-Durometers from 10 to 90

-Small Runs

-Silicone PSA

-.062" to 2.00" Thick

-Weather Strip

-ASTM-1056-67

-Mil-C-3133C

-ZZ-R-765

-UL-94-HF-1

-Molded Slabs

-Mil-R-6130C

-Custom Colors

-ASTM D1056-00

-ASTM-D-6576




Price List>>> Request Samples Request Samples

For pricing and Inquiries please call 770-736-0332 or use the links provided.

-Commercial Grade Silicone

-Specification Grade Silicone

-Food Grade Silicone

-Translucent Grade Silicone

-Extreme High Temp Silicone

-Fluorosilicone Sheet

-Fiberglass Reinforced Silicone

-Medical Grade Silicone

-Conductive Silicone

-High Strength Silicone

-Medium Strength Silicone

-Extreme Low Temp Silicone

-Closed Cell Silicone Sponge

-Closed Cell Silicone Foam

-Open Cell Silicone Sponge





Pressure Sensitive Adhesives (PSA)




Our line of Silicone and Silicone Sponge can be provided with a variety of Pressure Sensitive Adhesives. Many of our popular styles include Rubber based, Acrylic, Extreme High Tack Acrylic, High Temperature Acrylica and Silicone adhesive.