Cloth Inserted Neoprene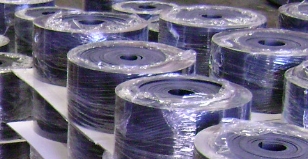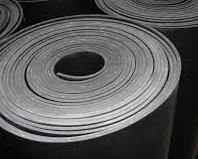 Neoprene is a commonly selected compound due to its unique combination of properties, which has led to its use in thousands of applications in diverse environments. Neoprene is a polymer that provides moderate oil and gasoline resistance, very good resistance to ozone and sunlight, excellent adhesion to fabric and metals, good resistance to abrasion and flex cracking and very good resistance to alkalis and acids.
Cloth Inserted Neoprene provides all of the desirable properties of neoprene with the added benefit of a Nylon Fabric Insert. The addition of the Nylon fabric adds additional durability to the product making it suitable for a variety of applications including, pads, curtains, chutes, fabricated rubber sleeves, transition boots, safety guards and more. The fabric insert also reduces creep in seal and gasket applications as well.
-Large Inventory in stock

-36", 48" and 72" Wide

-In House Slitting

-Short Lead times

-ASTM D2000 specs

-Mil-Spec Materials

-Custom Compounding

-1/16" to 1/4" Thick

-Fabrication Options





Request a Quote Request Samples 357 Data Sheet

To Place Your Order Please Call 770-736-0332




Style 235 Cloth Inserted Neoprene, Nylon Insert


| | | | |
| --- | --- | --- | --- |
| Item Number | Description | Full Roll Price/Ft | Partial Roll Price/Ft |
| 235304 | 1/16" x 36" Cloth Inserted Neoprene | $ | $ |
| 235308 | 1/8" x 36" Cloth Inserted Neoprene | $ | $3 |
| 235312 | 3/16" x 36" Cloth Inserted Neoprene | $ | request a quote |
| 235316 | 1/4" x 36" Cloth Inserted Neoprene | $ | $ |
| 235404 | 1/16" x 48" Cloth Inserted Neoprene | $ | request a quote |
| 235408 | 1/8" x 48" Cloth Inserted Neoprene | $ | request a quote |
| 235412 | 3/16" x 48" Cloth Inserted Neoprene | $ | $ |
| 235416 | 1/4" x 48" Cloth Inserted Neoprene | $ | $ |
| 235604 | 1/16" x 72" Cloth Inserted Neoprene | $ | request a quote |
| 235608 | 1/8" x 72" Cloth Inserted Neoprene | $ | $ |
| | | | |
| | | | |